Good day Gamers! This is Jennifer and I'm a fairly new member on the Green Mountain Gamers board, joining as secretary in 2019. Gaming has been an important part of my life since I moved back to the area after being gone for 7 years. I have been able to reconnect with old friends and make plenty of new ones through this social sport. Though, I'm sure like many of you, the pandemic has put most of my usual gaming on hold. I will say that I've found this time very useful for getting organized. When I get nostalgic for returning to game tables, I find myself on Kickstarter perusing the many games in development.
I'll be very honest with you, I have a procrastination problem. I've had games on my shelf that I have gone through the joys of punching, the complexities of organizing, and purchasing the right sleeves to finish, then failing to actually finish the job. With a bunch of time on my hands, and frankly low on things to do around the house, I got to it. Felt good to be accomplished, even if I didn't get out of my PJs that day. Definitely left me itching to get some games back to the gaming table or there for the first time.
One of my favorite games is Everdell. I enjoy worker placement and resource management and this game has all that plus fantastic artwork. I love getting Everdell to the table and was excitedly awaiting the new expansions I backed on Kickstarter pre-pandemic.  These expansions added new complexities and the ability to play with more than 4 players! So, the expansions came, I punched, I organized, and I felt hopeful that I'd be able to find a way to get it to the table soon. That was March. It is now November, and they are sitting there on my shelf still unplayed. I follow an Everdell Facebook group and have been living vicariously through those who have been able to play the expansions.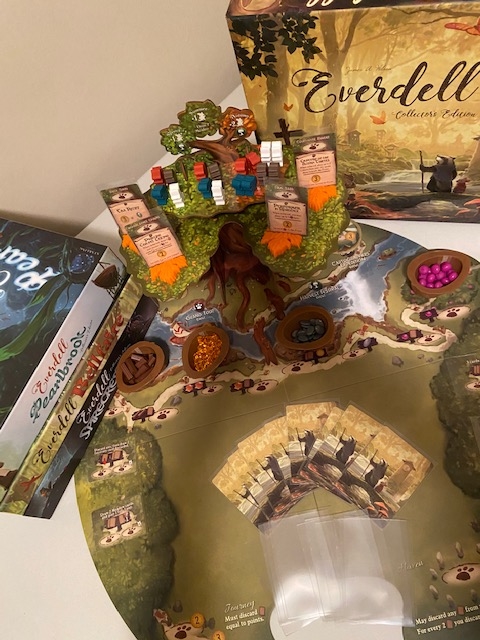 In addition to following Facebook groups, I keep my gaming passion alive through keeping up with the BoardGameGeek newsletter, especially the Crowdfunding Weekly edition. Which I've found both good and dangerous (for my wallet). I feel zero guilt. The joy of getting new games in the mail has brought light to some days that didn't have very much. They have also brought me hope in the form of looking forward to our next game day. I can't wait until we can all come together safely and share our love of gaming. I know I'll have some new ones to bring to the table. In the meantime, I'll make sure they are sleeved, organized, and ready to play!
Wishing everyone well,
~Jennifer
https://www.greenmountaingamers.com/wp-content/uploads/everdell-feature.jpg
435
475
GMG Admins
https://www.greenmountaingamers.com/wp-content/uploads/greenmtngamers-1-1024x153.png
GMG Admins
2020-12-04 04:03:16
2020-12-04 04:03:31
Kickstarting Joy